Bushy Creek Parklands - Box Hill
Bushy Creek – the creek that isn't.
When Arundel Wright settled in Box Hill North in 1843 Bushy Creek commenced behind McDonalds at the corner of Springfield & Middleborough Roads. It ran down Springfield Road to Dorking Road, then behind Greenlink Nursery to Station Street, through Memorial Park, under Woodhouse Grove to the corner of Belmore and Elgar Roads, under the Minirail, then ran into Koonung Creek as a small stream. In the mid-1950s it was barrel drained and the little creek that was there disappeared. At the same time the drain opened into a concrete culvert behind the Minirail then into Koonung Creek.
This extensive linear parkland linking Elgar Road to Dorking Road in Box Hill North is comprised of three sections creating 'The Bushy Creek Parklands'
​​​​​​​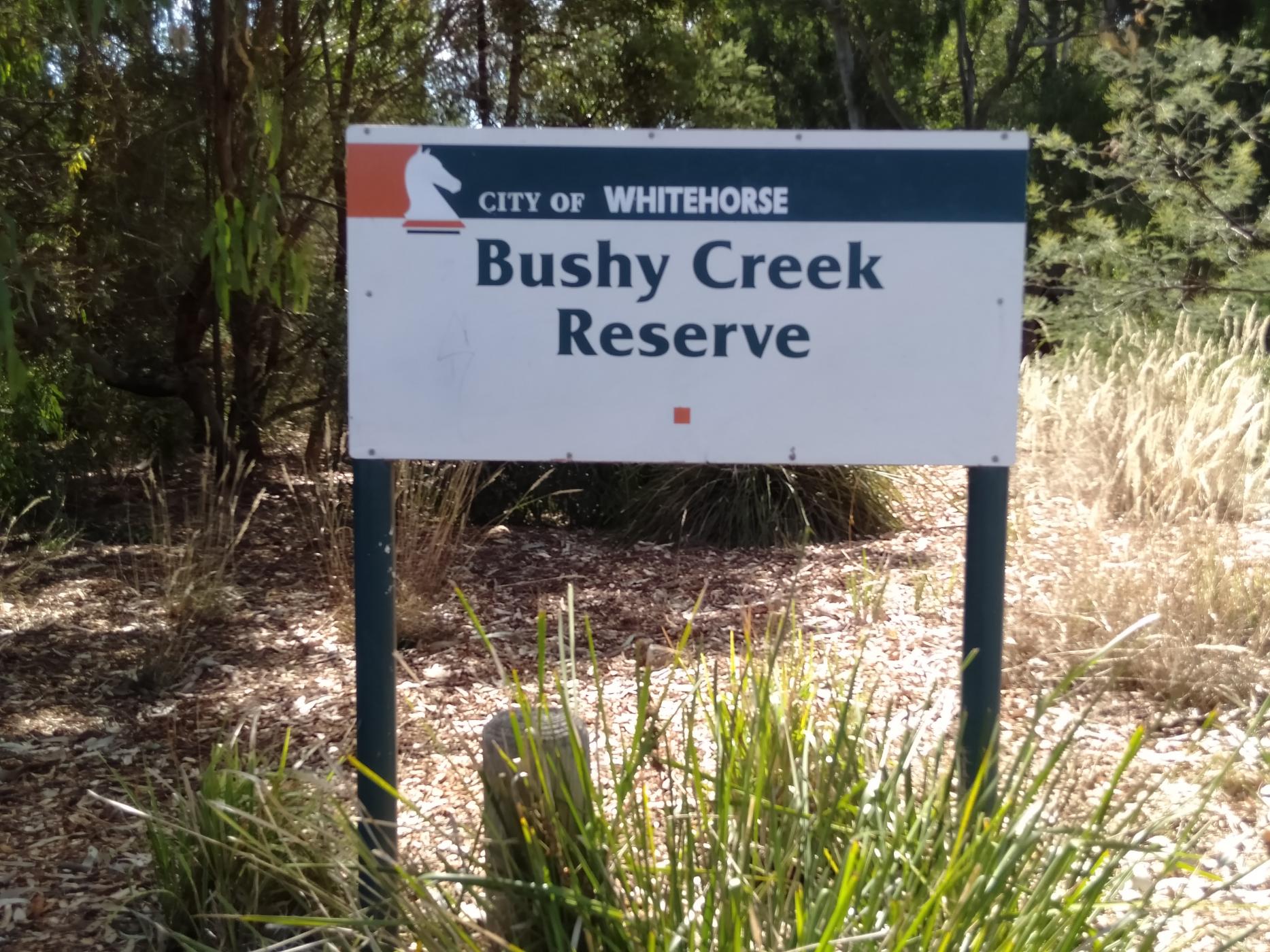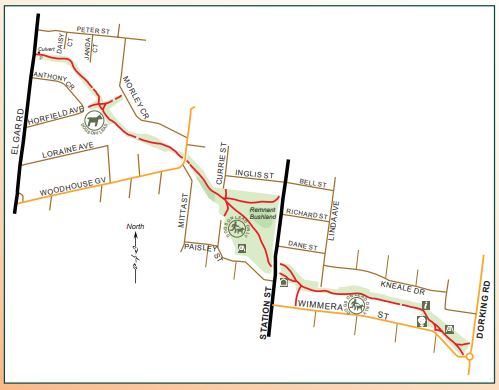 Development of the Bushy Creek valley has been undertaken as part of the then City of Box Hill Neighbourhood Improvement Program. Works commenced on the Dorking Road to Station Street section in late 1993. As part of the development 3 wooden statues were commissioned. Damien Curtin carved "Pagoda, Sentinel and Raptos" – a wedge tailed eagle. They stand at the Dorking Road entrance. The area was turned into a Parkland, with a children's playground in Wimmera Street opposite Mersey Street and a sealed shared pathway to Station Street.
Bushy Creek Reserve recognises the role played by local flora in this developing urban area as well as locally significant historical sites. The first electric tramway depot (1889 – 1896) is signified by a shelter located on Station Street. A representation of "Bushy" ("later Beaudesert"), one of the first landholdings in the area and built by Arundel Wrighte in 1843, is to be found off Paisley Street.
The concept plan for the reserve was developed by Eric and Kirsten Hoak – Building Artists, after consultation with local residents and school children. The plan was formally endorsed by Council on 19 October, 1992.​​​​​​​ ​​​​​​​​​​​​​​​​​​​​​​​​​​​​​​​
Bushy Creek Redevelopment Project -
A joint project by Greenlink, VicRoads, Melbourne Water and the City of Whitehorse early 90's following the extension of the Eastern Freeway
Bushy Creek 'snake' garden plan was conceived as part of the redevelopment of a site at the entrance to Bushy Creek path, on the corner of Wimmera Street and Dorking Road, where a number of wooden art sculptures have been installed.
Planting originally started in 1995 and further works were completed in September 2007 with the community and local schools involved.
​​​​​​​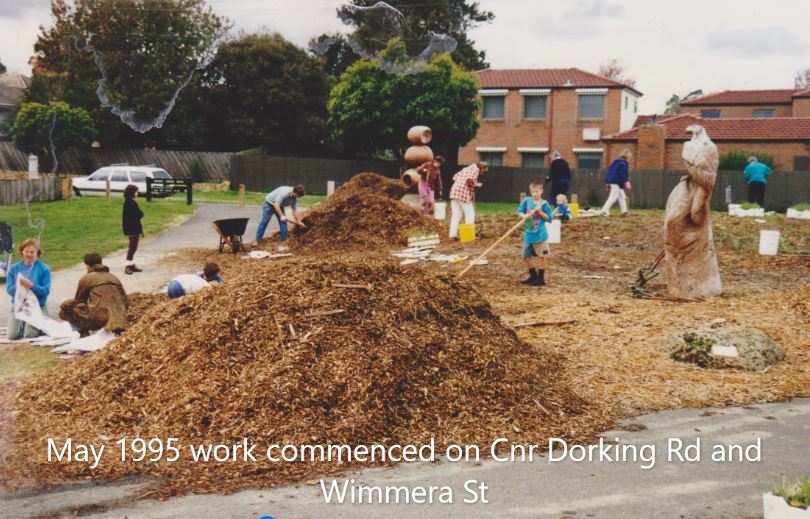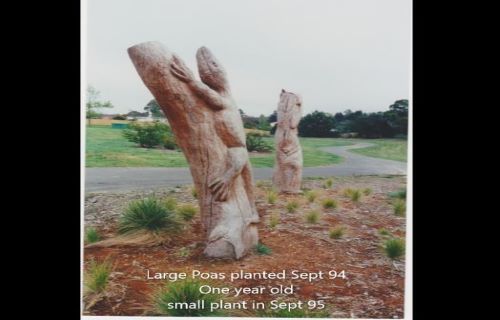 Greenlink Nursery
In 1996 Greenlink opened its Nursery. Most of the area north of the Nursery was a grassed area with a few Eucalypts with a sealed bitumen shared pathway (walking and cycling). Greenlink extensively planted the area behind the nursery and along the eastern side. This was not only to revegetate the area but to allow many species sold from the nursery to grow to maturity to showcase the size and diversity of these species. It also provided seeds and cuttings to be grown later in the nursery.
A wetland was constructed at the rear of the nursery to collect run-off in 2006. A retaining bank was built - this allowed the wetland plants sold in the nursery to be on display. It also gave a home to several frog species including the easily recognised Pobble Bonk frog with its "bonk bonk" call.
​​​​​​​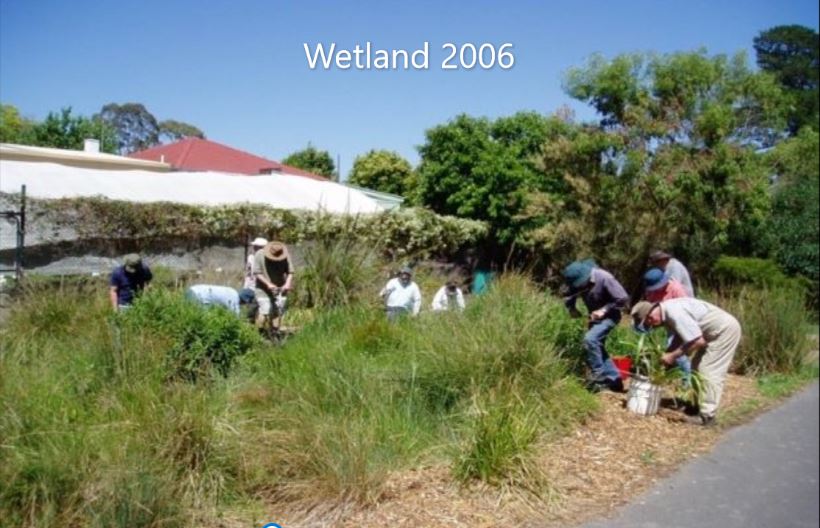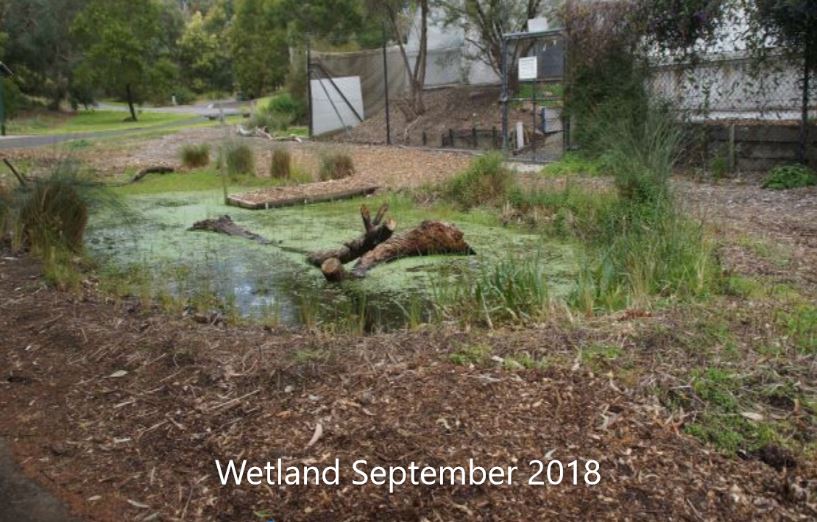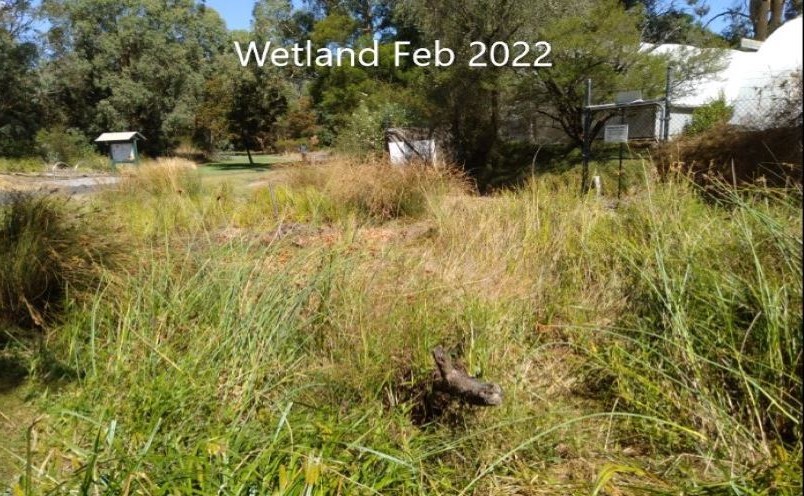 ​​​​​​​
Changes in the Parkland
Greenlink has made many changes to the Parkland between Dorking Road and Station Street. A display garden was planted at the Dorking Rd entrance featuring a snake using indigenous herbs. This consisted of Patersonia for the water, Chrysocephalum for the body and various grasses. Unfortunately, it needed a lot of labour to keep it weed free and was later taken out.
​​​​​​​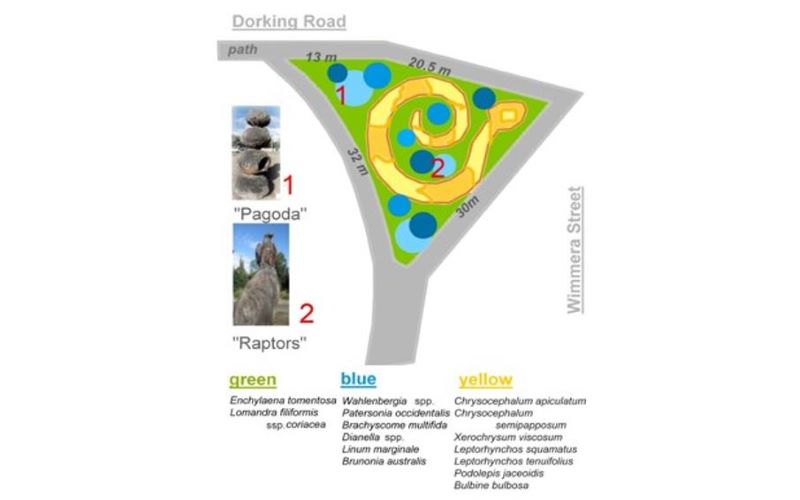 ​​​​​​​​​​​​​​
Originally the shared path was edged with Lomandras. Many of the pedestrians complained that they could not step off the path when cyclists came. So, the Lomandras were dug out and the edges planted with Enchylaena (Ruby Saltbush) which forms the present edging allowing pedestrians to step off the path for cyclists.
In 2012 the wetland was excavated as the pond had filled up with mulch washed down in summer downpours. This also removed weeds that had grown in the pond.
A new playground was built 2017 in Wimmera St opposite Mersey St with modern play equipment which caters for young children.
A sealed bitumen shared pathway was built though Memorial Park. This is a large park and is predominantly open grassland. It has a playground near Paisley Street. There is also an unmown section on the northern side. This is original bushland and is one of only two areas of original bushland in Box Hill. While it looks unkept it is very important showing what the pre-European vegetation was like.
Whitehorse Council negotiated with the houses in Morely Crescent and the Parkland was extended from Woodhouse Grove to Elgar Rd in 2000 with bitumen shared pathway constructed. Several community plantings were organised by Greenlink, Parkswide and community volunteers to plant out this corridor.
Bushy Creek Parkland is not a revegetated bushland area. All the plants in it are indigenous and all have been planted. Rather than creating a bushland along the corridor it consists of either single plants or groups of plants, with large open grassed areas. It is still a drainage system so can get quite damp after rain.
Greenlink continues to maintain, clean, and plant the Bushy Creek parkland and wetland to the East and rear of the nursery to this day.​​​​​​​​​​​​​​​​​​​​​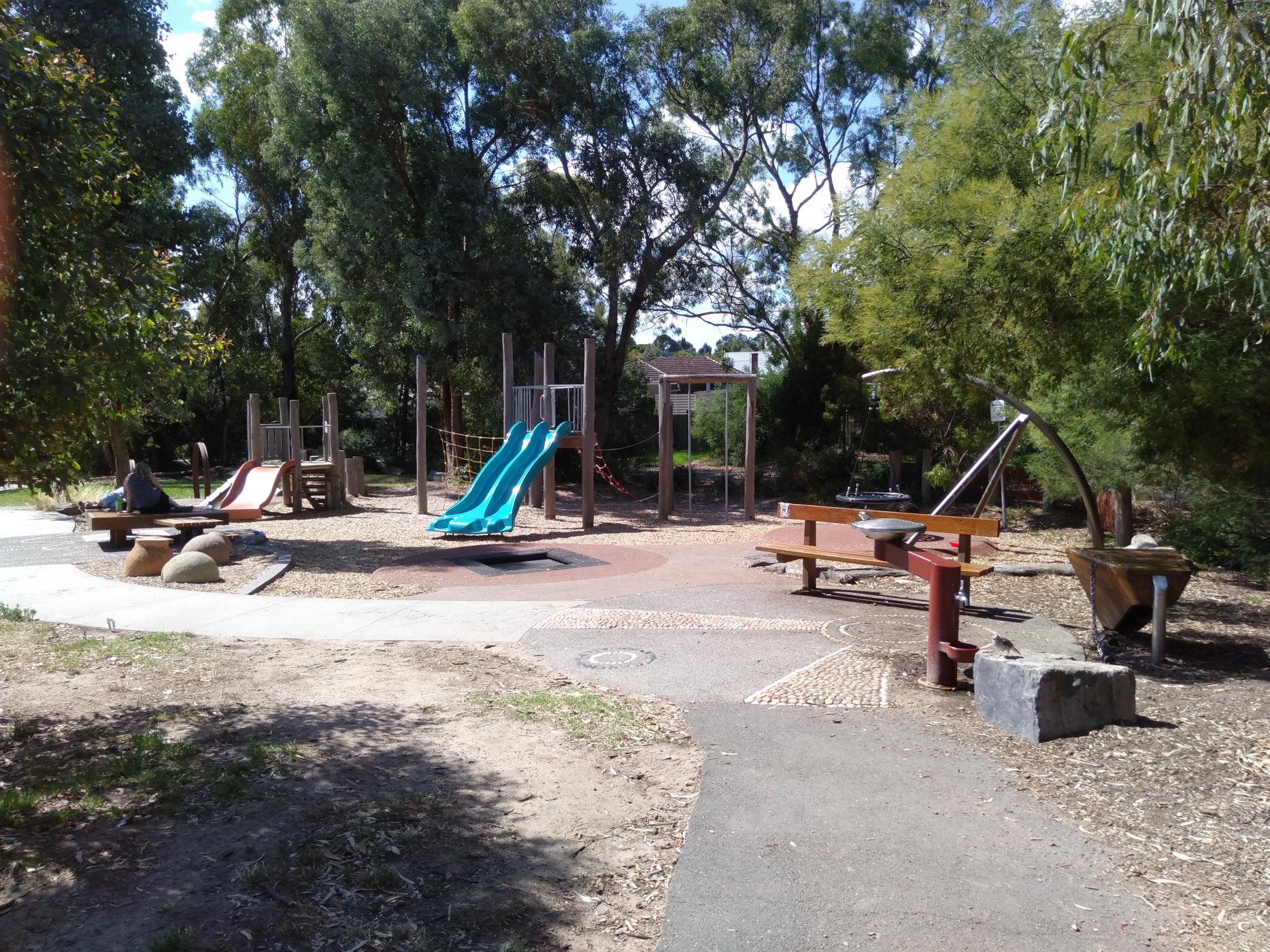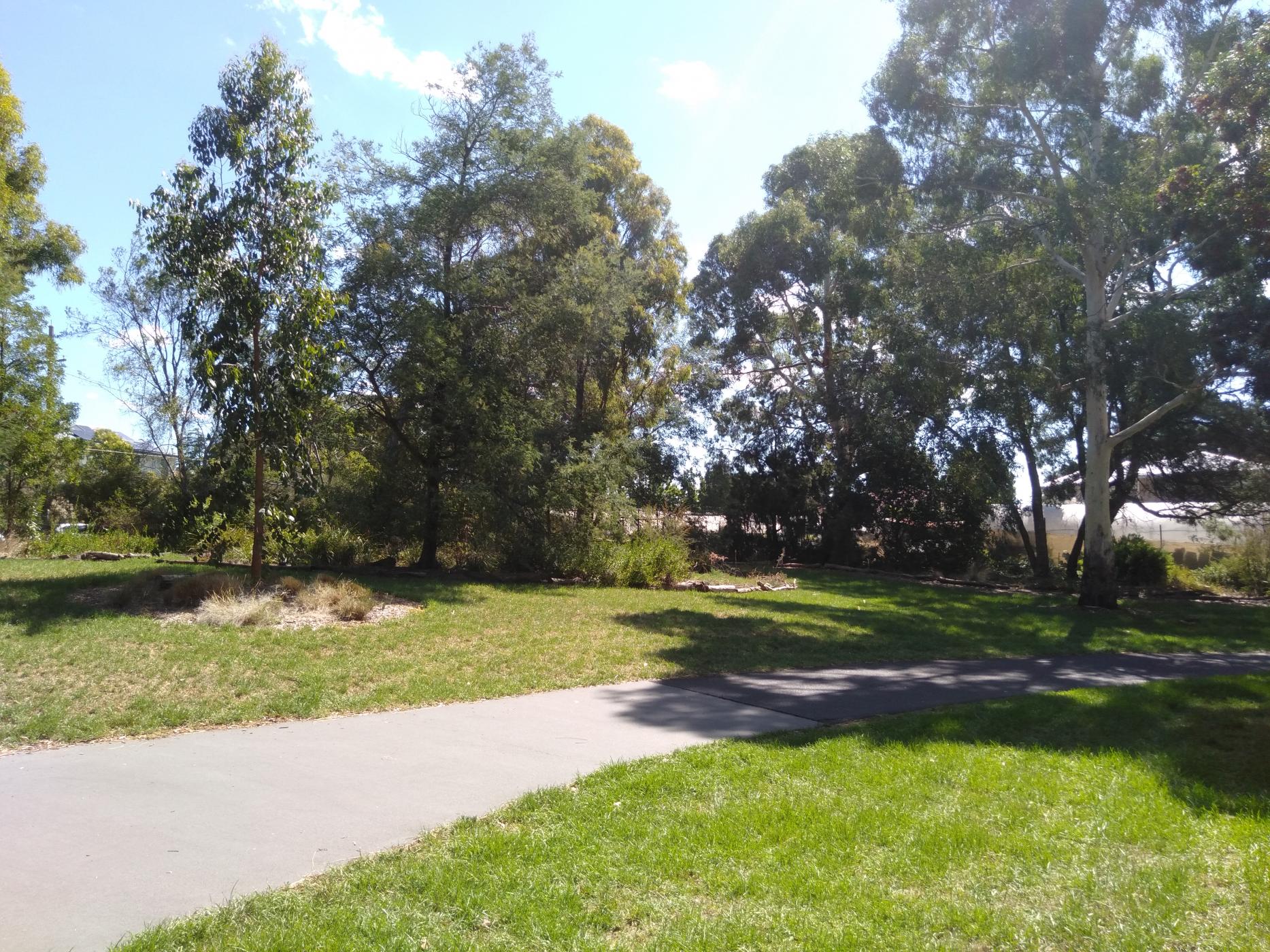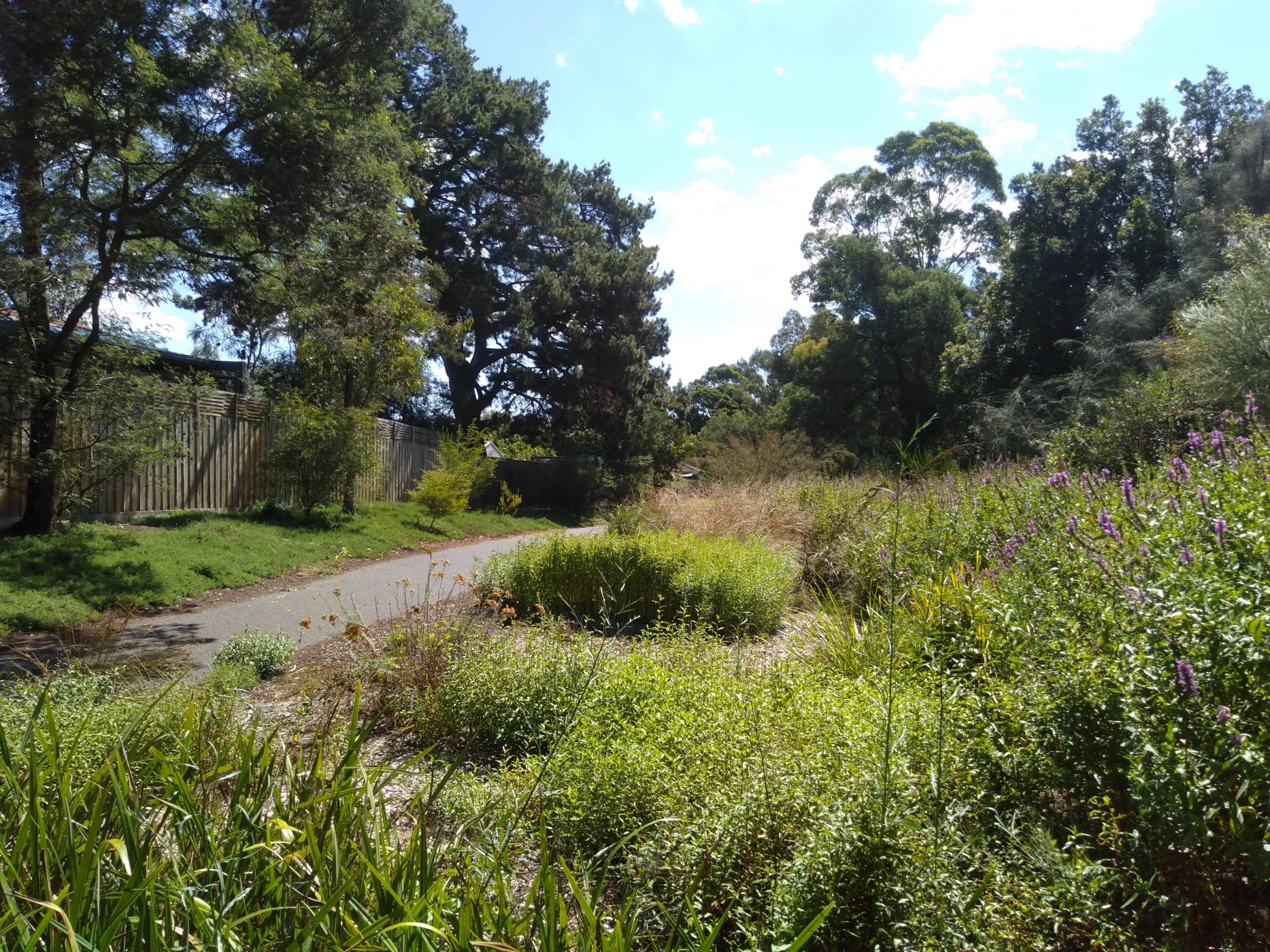 ​​​​​​​
​​​​​​​
"Bushy Creek" - Poem
Silently they sit by singing waters
Dark legs swinging eyes watching
Quietly waiting
The winds low whisper
Sunlight flecks on leaves
Snuffle of a beast unsure
Springing bodies
Swiftly striking
Hunger satisfied
This was Bushy Creek
Waters gurgle rush polluted
Confined in a barrel drain
Break out tearing banks
Muddy clods fall in breaking waves
Weeds grab at tumbling bottles
Traffic rumbles
Rivulets of oil
Black rat chews a rotten apple core
Pale faced boy throws a stone
Misses
Rat hurries down a burrow
This was Bushy Creek
Water running white and sullied
Carries clay from thoughtless builders
Greenlink battles weeds and rubbish
Planting trees reeds sedges rushes
Cyclists race to work uncaring
Walkers young and old dogs and prams
Asking what is this what is that
You do a good job there they say
One day perhaps they'll lend a hand
Weary backs keep bending pulling
A flash of colour flying parrots
Waters clear
This is Bushy Creek
Minette Russell-Young, March 1998