Creating your own Wetland Habitat
"A great evening"; "Thanks for organising such a fantastic event"; "A really fabulous evening"; "Thank you for a great night."; "We had a great time and thank you all very much. It was evident that a lot of thought and planning had gone into this event."
This is just some of the feedback from what was an exciting time for Greenlink as we played our part in Whitehorse's Sustainability Week in partnership with Whitehorse Council's Trees and Urban Forest Program by conducting an evening seminar on creating your own frog bog/wetland habitat area in your garden.
We were fortunate to have native garden expert and Author of three books, AB Bishop talk to us on how to create your own habitat pond/frog bog area. She gave us tips and tricks on how to attract frogs and dragonflies into your garden, which is a wonderful way to support our local biodiversity.
​​​​​​​

​​​​​​​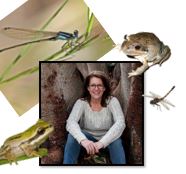 ​​​​​​​
Whilst the evening was conducted in a workshop format the round table setting created an environment where the audience could interact with each other whilst at the same time enjoy the presentation. This was really important especially when it was time for each table to design their own wetland habitat.
There were so many participants who displayed their very creative talent. The calibre of the designs was so great that AB found it difficult to determine an outright winner so she awarded prizes to two groups. Each member in both groups were given a Greenlink plant voucher to the value of $40 equivalent to 20 plants.
Read more about the night in our Greenlink News June 2022 and in Creating a frog-friendly garden - Notes and Slides within the Photos are by AB Bishop.